Free Informational Evening - Wednesday, November 3rd, 2021 at 7.30pm
Margreet Leemhuis will explain the NeuroBalance program and answer all your questions.
Space is limited. Call and RSVP a spot.
About The Program
The Neurobalance program is an individualized and holistic approach to help children with learning and behavioral difficulties such as ADHD/ADD, Dyslexia, DCD and Autism Spectrum Disorders. Often these childhood disorders are manifestations of an imbalance in function and connection between and within the hemispheres (sides) of a child's brain. A chiropractor specialized in Functional Neurology is trained to find out which part of the nervous system is not functioning properly. The Neurobalance program consists of chiropractic treatments and training sessions. The program is based on the Brain Balance program developed by Dr. Robert Melillo in the USA.
---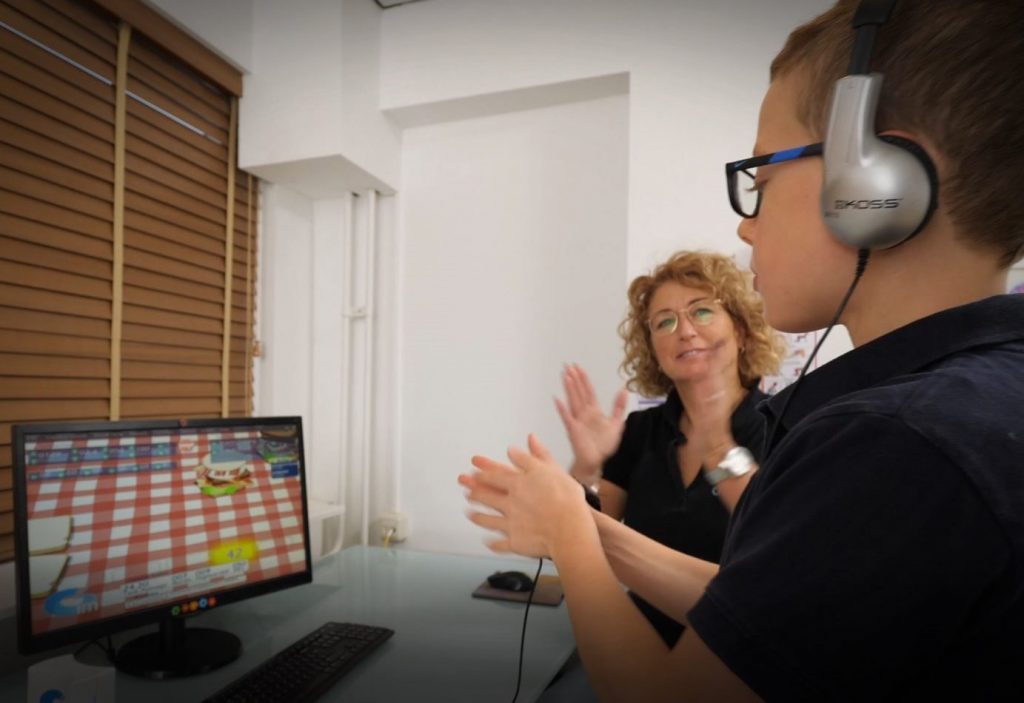 Primitive Reflexes
These are reflexes that start to emerge in the womb. They are normally inhibited by the developing brain by 6 to 12 months of life. If they have not disappeared by the age of one it indicates a developmental delay. Physical examination can reveal the presence of uninhibited primitive reflexes. These can then be inhibited by specific exercises giving the brain a "second chance" to register the reflex inhibitory movement patterns which should have been made at the appropriate stage in development.
---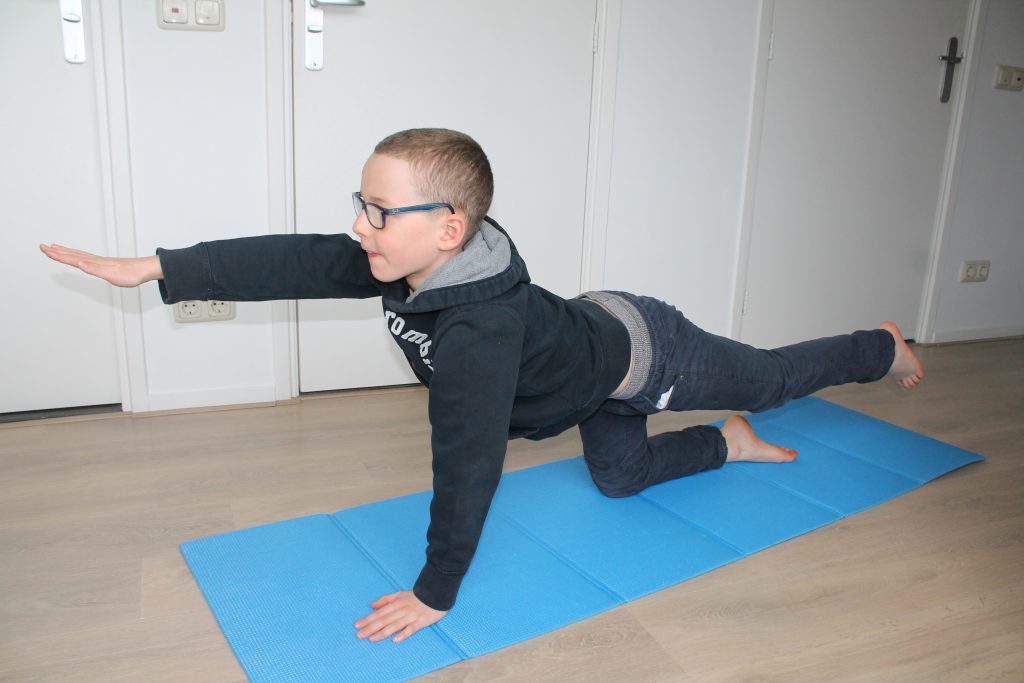 ---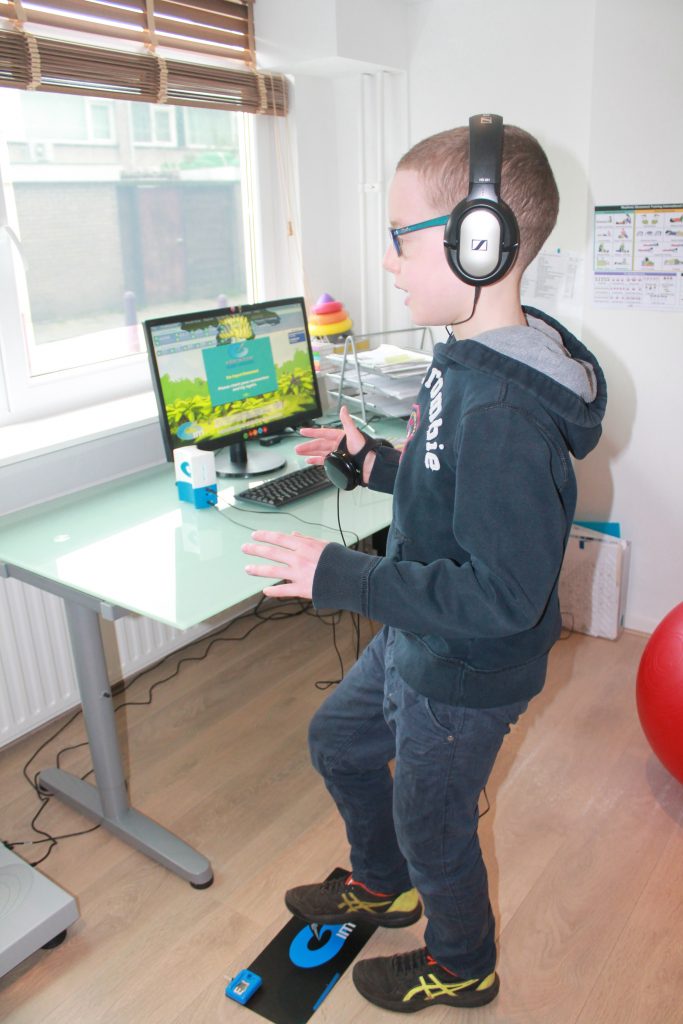 Left and Right Brain
The two sides (hemispheres) of our brain are symmetrical but functionally different. A simplified overview of the left and right brain characteristics:
| Left | Right |
| --- | --- |
| Verbal Communication | Non-verbal Communication |
| IQ | EQ |
| Fine Motor Skills | Gross Motor Skills |
| Details and Facts | The Big Picture |
| Math Calculations | Math Reasonings |
| Word Reading | Comprehension |
| Linear Thinking | Abstract Concepts |
| Likes Routine | Likes Novelty |
The neurobalance program is aimed at improving the function and connection within and between the two hemispheres. This can be achieved by using the interactive metronome, eye exercises, vestibular exercises and right/ left coordination.
Interactive Metronome (I.M.)
Part of the neurobalance program is testing and training with the Interactive Metronome. The Interactive Metronome is a research-based training program that helps children overcome attention, memory, and coordination limitations. IM works for children who have a variety of conditions affecting their cognitive and physical abilities. On the website www.interactivemetronome.com you can find more information. IM's entertaining, game-like interface and easy-to-understand feedback will have the children checking their scores after each exercise and reaching for new levels and rewards.
Practical Information
The program is suitable for children of all ages. Before the first consultation with the chiropractor the parents will be asked to fill in a questionnaire. During the first visit there will be a physical examination by the chiropractor (this takes about 1 hour). She will then evaluate which other functional neurological tests should be done. After that the chiropractor will discuss the treatment plan. On average the program takes 4 to 6 months but this of course depends on the child's problems. Parents will also be advised about nutrition and exercises to do at home with their child for about 20 minutes a day. Health insurances usually reimburse (part of) the program if you have an additional package.
Literature
Disconnected Kids, Robert Melillo
Reconnected Kids, Robert Melillo
The well balanced child, Sally Goddard Blythe
The Brain Food Plan, Robin Pauc
Costs and training times
Chiropractic first consultation: 95 euro
Chiropractic follow-up consultation: 59 euro
NeuroBalance training: 40 euro (lasts 30 minutes)
Combination training/consultation: 75 euro.
Wednesday: 14.00 - 18.00
Thursday: 17.00 - 19.00
Patient Testimonials
*****
(translated from Dutch)
From an early age we noticed that our son was very active and that he looked for many stimuli. We also noticed that his motor skills were clumsy because he often fell and could not keep his balance. At school, the teacher also said that it was difficult for him to concentrate on his work and that he was unable to keep up well during PE lessons. After a tip from an acquaintance, we contacted Chiropractie Wassenaar. It was a great relief to hear after the intake that something could be done about the symptoms and that with a lot of practice a permanent improvement would occur. Fortunately, we were able to start immediately.
After more than a year of intensive practice and the weekly training at Myriam, our son has made enormous progress.
He feels better and has gained more self-confidence. He can concentrate better and he likes school more and more. The teacher also sees a big difference! And we no longer have to buy new pants every week ;-). He now plays two musical instruments and has signed up for football. Something he had given up in the past after practice training because the other boys were much better. He has also obtained his A, B and C swimming diploma. Suddenly he got the breaststroke and went through all the pools like a spear.
We are very grateful and happy with the guidance, knowledge and expertise of Margreet and Myriam. It has helped our son enormously in his development. He is more balanced and clearly enjoys everything he does.
Thank you Team Chiropractie Wassenaar!
name withheld
*****
"Zachary (8) was having issues at school with concentration, implulse control and discipline.
"He has not had a single disciplinary comment since starting the NeuroBalance program. His schoolwork has improved --specifically his writing skills. His overall coordination has greatly improved.
"I am very impressed and happy with the care and attention paid to Zachary. His attitude and overall demeanor has significantly improved.
"I can't thank you enough for this."
*****
Kevin (14)
What brought you to the NeuroBalance program?
-Lack of concentration and focus.
-Trouble finishing academic tasks on time.
-Disorganized, distracted.
What changes did you see with your child?
-More confident, more calm.
-Ability to finish tasks (including eating dinnerwhile it is still hot).
-Organized by himself without reminders.
-Higher grader in all classes.
*****
"Our son (aged 8) was suffering from poor concentration and scoring low on his grades at school - this when we were sure he is an intelligent child. Also he was hyperactive (he refused to learn to read).
"Margreet advised us to have our child checked for food intolerances (he is very sinsitive to gluten and dairy). We followed the NeuroBalance program religiously for a year. Our son's behaviour started to change with ups and downs at first no change in his grades. We continued and now 1.2 years on, he is a very good studen with great grades.
"I have read up on NeuroBalance and have even detected a primitive reflex. I haved worked on it and now I can function a lot better myself."
*****
"Nick (aged 14) has been struggling with ADHD since childhood and has had to take medication. There was a marked improvement in ability to concentrate at school and his grades significantly improved. We can warmly recommend this programme."
*****
"F. (aged 9) was more focused at school, [showed] better behaviour and more enjoyment in physical activities. The sessions were short enough for my son to tolerate and he had great fun with Myriam. Margreet was very patient and gentle and explained things to him."
*****
"M. (aged 11) struggled for many years with reading and writing at school. We took up all extra help and recommendation offered by his schools but just couldn't see progress. A friend of the family recommended that I contact Margreet as she offers a program that might help M.
"Margreet evaluated him and recommended the NeuroBalance program. As parents we also attended the information session and the whole program just made sense and we believed that it will be good for M. to complete the program.
"During the first six months we did not see any real change but after that M.'s reading did get better in such a way that he even enjoys reading on his own now. Before he did not enjoy reading at all because it took him forever to read only one page. His spelling also improved.
"A special thank you to Margreet and Miriam for their dedication and work with our son. Miriam is a great facilitator and M. enjoyed the time spent with her."
*****
"Our son (age 6) was diagnosed with Autism Spectrum Disorder at 3 years old and his pediatrician recommended Brain Balance exercises. I saw that a variation of this program was practiced here, including the Interactive Metronome and chiropractic work.
"He began smiling and laughing - his sense of humour has really developed! Seems happier, more "connected" with us and other people. His speech and expression has really improved within just 5 months.
"Many thanks to Margreet and Myriam."
Name withheld upon patient's request
*****
"Our daughter (age 9) had recently been diagnosed with dyslexia and was having problems with coordination and explosive tempers. A friend recommended we look into NeuroBalance. It has taken a while but we have noticed lots of positive changes. The allergy testing indentified some problems and her anger noticibly decreased once they were removed. Her handwriting and reading have improved and there has been a noticible improvement in her coordination. She looks like she fits her body better now.
"Myriam has been great with getting our daughter to cooperate and work hard, she has had a really positive attititude that has made a big difference."
Name withheld upon patient's request
*****
"Oliver was having difficulties concentrating at school and misunderstanding instructions, rushing through assignments, etc. We tried many things, then a friend recommended NeuroBalance in Wassenaar. We thought we would give it a try.
"The program gave Oliver some "discipline" by requiring him to do exercises daily. He also enjoyed the program and his "lessons" very much. Over the months, we became aware that he seemed to become somewhat calmer. He even noticed it himself! His teachers also commented that things were improving in the class. We will continue with the exercises and regular visits to Margreet at wider intervals to make sure the progress continues. We are pleased and ver happy wih the work the team has done with Oliver. Thank you!"
Oliver's mother
*****
"About three years ago, our son had significant frustrations in his life and was showing worrying behaviors: verbal and physical aggressive attitude towards his family, sleeping problem, low concentration in school, learning difficulties despite good motivation and capabilities, headaches and bellyaches. His mind was racing ahead of his body abilities. Basically he has not been a happy child for many years…
After going through many doctors: neurologist, child therapist, naturopath etc… and listening to different diagnosis about our 7 years old boy, we were totally lost. We did not know anymore what to do.
At that time we were continuing reading any book on the subject that we could find. Dr Melillo's book really triggered our interest. Going to the USA to follow his course with our son was not an option but his method remained in the back of our mind. By coincidence we found a neurobalance program here in the Netherlands which was based on the research of Dr Melillo. We decided to give it a try.
At the start of the neurobalance programme, Margreet advised that Valentin could also be suffering from food intolerance, which proved indeed to be the case. After only few weeks following the program and a special diet, we noticed already an extremely positive change in our son's behavior, well being and happiness. After now seven months his frustrations are mainly gone and he now seems to "fit in his body". He is well balanced and controlling his feelings better. This has of course a great impact on his concentration, his school work and also in our family life.
Valentin really enjoys working with Myriam. He said about the program: "that's nice to have some challenging exercises. Now I feel more relaxed and calm. I act less silly and it's easier to fall asleep".
Despite the efforts of the whole family to train every day, change the food habits and some moments of apparent slow progress, in hindsight everyone including Valentin himself, do see real improvements and benefits. We are very thankful to the Team for their competence."
Celine (Valentin's mother)
*****
"Sophie joined the NeuroBalance program from December 2012 until May 2013. She is now done with the trainings and is a different child at school.
How did we get there? Sophie is a very bright girl. Because of her concentration problems and slow work pace, this didn't really show at school. There was a discrepancy between her test results (A+) and the teachers' reports.
In group 3, she had issues with her handwriting and we were advised to visit a pediatric physiotherapist. Also because she had a hard time learning to bike and swim. The physiotherapist noticed that Sophie had decreased proprioception in combination with hypermobility. The result is that she can't sit still because she constantly needs to give her body information and feedback. With the physiotherapist she improved her swimming and biking but her concentration was still a problem.
Then we got the pamphlet about the NeuroBalance program and decided to give it a try. Margreet examined her and made the conclusion that the NeuroBalance program should help her. Within a few weeks we already noticed an improvement in her concentration span and was she able to finish her schoolwork on time, very positive!
Now she is done with her trainings. Her concentration span has improved significantly and she has a good work pace as well! Finally she can really show what she can do at school, a promise for the future!
Margreet, Darien and Myriam, thanks a lot!"
Jeanette (Sophie's mother)
*****
"Since Danny started with the NeuroBalance program, he has advanced a lot. We really noticed a big change in his ability to cope with difficult situations and he is less impulsive. He can now describe his feelings better, and his memory and motor skills have improved. Through the trainings and the exercises at home for 8 months, he became a totally different child. This makes me a very happy mother but, more important it will help him the rest of his life!"
Sabine (Danny's mother)
*****
"The advice to just practice reading more did not seem a good idea to me for my daughter with dyslexia.
School and homework already took a lot from her. The book "Disconnected Kids" by Dr. Robert Melillo gave us a different perspective and it is great that Chiropractie Wassenaar works according to his ideas. After a few months of weekly trainings my daughter's reading and reading comprehension has become significantly more fluent, also in English. Her eyesight has also improved. I find it impressive that Margreet Leemhuis can relate dyslexia to posture and movement. My daughter definitely benefitted from the program and also really enjoyed the training."
Annette (Franziska's mother)
*****
"Kas has 2 older brothers. He had a normal birth and seemed to develop normally as a baby and as a toddler. We noticed that he was very sensitive to loud noises. When he was a toddler we noticed that his fine motor skills were delayed. The advice was to practice a lot with beads. In group 2 the teacher noticed that he couldn't sit still. He was also delayed in his social skills and had poor interaction with his classmates. His speech was also not very clear so we started with speech therapy.
Kas only learnt to bike when he was 7.
In group 3 and 4 his hyperactivity was a concern, he could not sit still, and did not seem interested in the materials. His handwriting was very poor. He was described as being "sloppy".
The speech therapist also noticed that he couldn't sit still and that he seemed not to pay attention when read to, yet he knew all the answers when questioned.
We visited our GP and after filling out some questionnaires he started on medication (Concerta). This didn't help and we also thought it was strange that he was prescribed medication so quickly.
Our speech therapist came up with the possibility that he was suffering from DCD (Developmental Coordination Disorder). We visited a doctor in the LUMC who was specialized in that area. He got tested and showed to have issues with balance, fine motor skills and language development. Sometimes there is a commonality with ADHD so we also visited a psychologist. There we found out his IQ is above 130 and that he didn't suffer ADHD or ADD. The advice we got there was to let him work on a laptop and to not bother about his writing. We didn't quite agree with that solution .
Then I saw chiropractor Margreet Leemhuis because of back problems and saw on her website that she was specialized in functional neurology and the treatment of children. She examined Kas and referred us to chiropractor Blaauw in Gouda who had a practice working according to the Brain Balance method. After testing Kas started with the program. He trained twice a week for half a year in Gouda and we did exercises at home.
This was at the end of group 7 and the beginning of group 8. These school years he had the same teacher. On the teacher-parent meeting just before Christmas we were surprised by the positive review we got about Kas. He was much more social, concentrated a lot better and his handwriting had improved. Now that Margreet has started the program in Wassenaar, Kas has continued his training here. His fine motor skills can still be improved a bit more."
Elvira (Kas'mother)
*****
"I participated in the NeuroBalance program as an adult. After a few months, I noticed changes in my level of concentration and handling of emotions. After 6 years of not being able to stay calm and being easily distracted, I found I was no longer having those issues. The progress was gradual, until I noticed I was keeping things control more and more ofen. It's wonderful that with (mostly) simple exercises you can have an influence on your brain and your state of mind. I've noticed a bit of regress when I stop with the exercises. Maybe it's the same as with physical condition: stop training = regress. At least now, I know what I need to do to get better.
Name withheld by patient's request